News and information from Spain
International Edition - May 2022
Welcome to the May issue of 'The Word on the Street'. This is your monthly news and information from Spain provided by Ábaco Advisers. We hope to keep you in touch with the news, events and just a little bit of gossip.
Resident tax declaration deadline approaching


The tax year has a momentum of its own and now we're almost at deadline time for people who are resident in Spain and need to complete an annual Spanish tax declaration. We are often asked who is eligible for this and the fact is that the majority of people are.

To find out more about the requirement and how to make a declaration you can read this article:
Making a resident tax declaration in Spain

For guidance on who this applies to:
Must you make a resident tax declaration in Spain?

To take note of other Spanish tax deadlines you might like to read our article: 'Spanish tax year: Deadlines you need to keep in mind'. This includes reference not only to resident annual tax declarations but also those for non-residents and tax on rental income:
Spanish tax year: Deadlines you need to keep in mind
We said we'd be back – and we are!


We've waited very patiently and now we're back with our face-to-face events – and we love it! On April 28th we visited Bodegas Faelo for wine tasting. Bodegas Faelo is a small, family-run winery with more than 100 years of winegrowing tradition. You can find it in the outskirts of Elche, in the heart of the wine growing countryside. We took a tour of the vineyards, were introduced to the wine cellar and enjoyed some typical local dishes.

Out latest trip out together was to Alma Restaurante & Beach Club in La Mata on May 26th. This is a fabulous beach side venue with two small swimming pools – one on the rooftop. You can choose to dine either outside on its terrace with sea view or inside in its beautiful restaurant. If you haven't been already we would recommend you stopping by. On this occasion ÁbacoClub members met at 11am and enjoyed tapas, drinks and music. And now we're very much looking forward to the next outing.

These events are totally free to ÁbacoClub members and they are handpicked by
club organiser Sofia Zajac. You can sign up for our activities online and we have been delighted by the feedback. You've told us how much you enjoy the opportunities we provide for getting to know Spain and to meet new people.

Don't forget to check your ÁbacoOnline account to keep up-to-date with our latest events and invitations.

If you have forgotten your password you can click on 'have forgotten your password?' link and with your registered email address you will receive a new access code in your inbox.

You can also like us on Facebook and watch out for the posts about new events: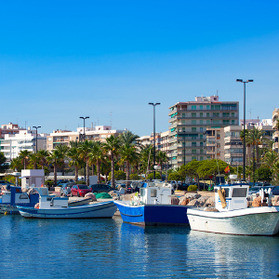 Picking your destination the David Ruiz way

David Ruiz of Torrevieja Translations is a regular contributor to our newsletter. We have 'visited' many towns in this region through his recommendations and this time we're off to Santa Pola and Mazarron. He also provides a good source of information about the different areas that you might choose to live in.

It's not just where to live. You can find out from his website about how to apply for Spanish residency and move to Spain

Santa Pola

Close to Alicante city, this is a popular seaside town. Its architecture includes the Roman ruins of Portus Illicitanus and its very own fortress in the centre. From the port you can take a ferry directly to the Isla Tabarca which is well worth a visit for its snorkelling.
Living in Santa Pola Spain: The Definitive Guide
Mazarron
Mazarron is a busy little port that boasts a 15th century castle, 35km of sandy beaches and even some abandoned mines with their very own story to tell. It's situated on the Costa Calida in the province of Murcia in the south of Spain and is a popular choice for those looking for somewhere to settle on the coast.
Whether the weather be...

Following the wettest April in decades we've been catapulted into a heatwave in May! This sudden change in temperature has at least made me trawl out the summer wardrobe and consider a dash to the shops:


Temperatures in parts of Spain reach highest on record for May

How are you managing to keep cool? Here are our tips for keeping sane in a
heatwave:


How to keep cool in Spain – top ten tips

If you're expecting to pop into the town hall for a refreshing air-conditioned burst of cool air, you just might be disappointed. Public buildings are set to have a limit of 27C:


Air conditioning in public buildings in Spain to be limited to save energy
Lakes and lagoons to visit:


As it's warming up you might want to cool down a little by visiting one of the lakes and lagoons listed on the Idealista website.


5 lakes and lagoons you have to visit in Spain

Their list even includes our very own 'Laguna Rosa' although officially, bathing is not allowed in this one, there are many lakes and pools where you are allowed to take a dip and we'll be featuring some of these in our ÁbacoClub Magazine later this year. To read previous issues:


Stay safe in the water...

As the water warms up, it's a good time to refresh our memories when it comes to keeping safe. Here is an article with common sense advice:

A swim in the sea is a fabulous way of refreshing yourself and with so many blue flag beaches in Spain, you are spoilt for choice. This summary of the blue flag beaches in the Costa Blanca and Valencia area is from 2021 but most will continue to hold their status this year too:
A beach in Madrid – really?


Madrid is well away from the sea. In fact, its very central position means that it's definitely not the place to go for a beach holiday. However, not to be defeated, Madrid is planning a project to install its own artificial urban beach. 'Alovera Beach' will be the largest artificial urban beach in Europe and will come with a water sports area alongside its bathing zone.

It's an ambitious project and you can take a look at what they've got in mind on the Idealista website:


Alovera Beach: Madrid's future (artificial) beach
Guide to Daycare and Preschool


If you're a family with young children living in Spain then you might be interested to read this summary of what's available for children from 0-6 years. It often comes as a surprise to discover that school is not compulsory for children until they are 6. However, as it is free, then most families do take up the opportunity and place their children in the infant section of their local primary school. For a succinct overview:


A Guide To Daycare And Preschool In Spain

A feature of many Spanish skylines is the Osborne bull. Our nearest one is on the drive between Alicante airport and Torrevieja. This silhouette of a bull against the horizon has been a sitting target for many graffiti artists over the years. Using the bulls as a blank canvass we've had many Banksy-type images created there. But blue?

On the outskirts of the Galician town of Xinzo de Limia, the traditional black bull has been replaced by a sky-blue version:
The Spanish Grand Prix


Did you watch the Spanish Grand Prix? Whether Formula 1 racing is your thing or not, it is quite a spectacle. It takes place annually in Montmelo which is a small town just outside Barcelona and attracts an enthusiastic crowd. This year was no exception. The 2022 winner was Max Verstappen from the Red Bull team followed by team mate Sergio Perez. In third place was Britain George Russell for Mercedes.

For a summary of this year's race:

It's not only on the race track that Spanish drivers have been racing around. The German Formula One driver Sebastian Vettel ended up chasing bag snatchers in Barcelona:
We would welcome any suggestions for future themes you would like us to cover either in the newsletter or in an article on Spain Explained.
Please let us know by email at
newsletter@abacoadvisers.com
.
Thank you!
Data Protection. We wish to inform you that Ábaco Asesoría Legal y Fiscal SLU, B53402624 with the address C/ María Parodi 8, 3º, 03181, Torrevieja, Alicante, Spain, EU is responsible for data management.

To consult detailed information regarding our Data Protection policy and the application of your rights please open this web page link: https://www.abacoadvisers.com/privacy-and-protection-personal-data.
If, in the future, you do not wish to continue receiving information you can unsubscribe by sending an email to rgpd@abacoadvisers.com or writing to the above mentioned address.
Before printing this message please decide if it is necessary. Protecting the environment is in your hands.
Protección Datos. Le informamos que el responsable del tratamiento de los datos es Ábaco Asesoría Legal y Fiscal SLU, B53402624 con domicilio en C/ María Parodi 8, 3º, 03181, Torrevieja, Alicante, España, UE.
Si no desea en el futuro seguir recibiendo información puede darse de baja notificando al siguiente e-mail rgpd@abacoadvisers.com o en la dirección arriba indicada.
Antes de imprimir este mensaje, asegúrate de que es necesario. Proteger el medio ambiente está también en tu mano.